In Beautiful Paris
A Grand Hotel In Vibrant Paris
In Beautiful Paris
Bienvenue À Paris !
In Beautiful Paris
You Have Arrived!
In Beautiful Paris
In The Very Heart Of Paris
In Beautiful Paris
Feel Completely At Home In One Of Our Guest Rooms
In Beautiful Paris
Treat Yourself To Our Executive Lounge
Welcome To Hilton Paris Opera
We invite you to discover a luxury hotel unlike any other. Sophisticated, grand and truly unique, Hilton Paris Opera hotel shines as a beacon of timeless elegance in central Paris. Discover the hidden history of the hotel and the secrets of its more than 130 years of hospitality.
Beyond its magnificent Haussmann-style façade, the Hilton Paris Opera in the heart of Paris sweeps you away, yet brings you closer to the authentic essence of The City of Lights.
All of the public spaces and some bedrooms are accessible for persons with physical challenges.
A SHIMMERING JEWEL IN THE PARIS CITY CENTRE
Hilton Paris Opera gateway to just the Paris you came to experience. A beautifully redesigned, opulently decorated hotel that is the perfect reflection of the history, style and enchantment that surrounds it. Immersed in the vibrant sights, sounds and energy of the Opéra quarter, this architectural gem is within easy reach of the most iconic sites and attractions to be found, including the Opéra Garnier, the Louvre Museum and the famous department stores, Galeries Lafayette and Le Printemps.
Discover Hilton Paris Opera, Paris city center!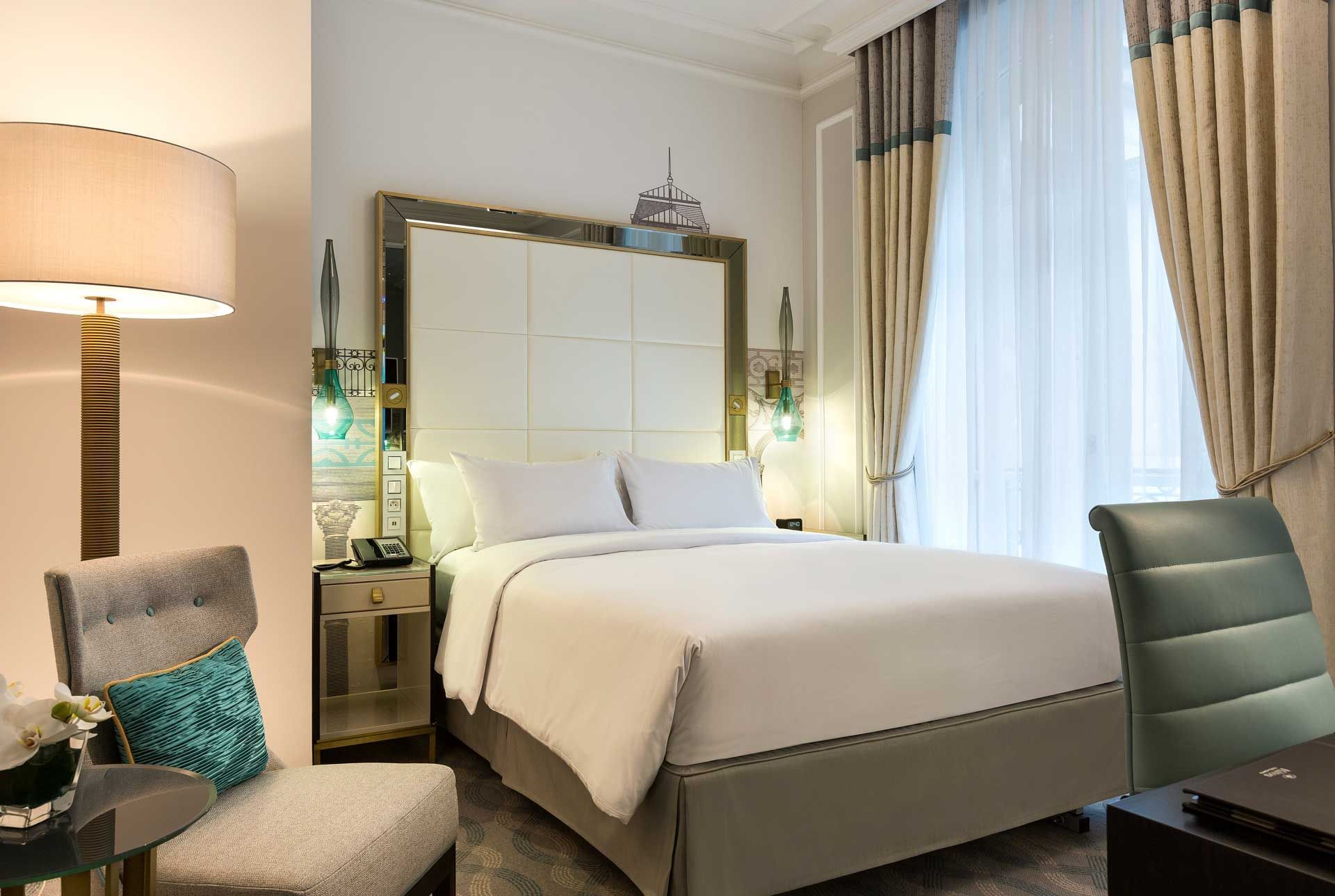 What to do
You decide, or let our Clefs d'Or concierges arrange everything for you. Take in a ballet performance at the Palais Garnier, stroll the Avenue des Champs-Élysées or explore the countless cinemas and theaters, specialty stores and charming cafés to be found in any direction.
Le Grand Salon
Take in the awe-inspiring "Le Grand Salon", decorated in a sumptuous, Napoleonic style and adorned with chandeliers, statues and Scottish granite columns.
Landmark building in the Opéra quarter of Paris
Free WiFi in all public areas and rooms
Full buffet breakfast served on the Mezzanine floor
A 10 minute train ride to the La Défense business district
Close to world-class shopping at Galeries Lafayette and Le Printemps
Easy access to famous Paris attractions including the Opéra Garnier and the Champs-Élysées
Le Grand Salon, an impressive lounge bar on site
Gender equality Index 2023 - Women/Men : 99/100 with 39 points for differences in remuneration, 35 points for differences in individual increases, 15 points about increases for women who take a maternity leave and 10 points for employees of the under-represented sex among the 10 highest remunerations.